Sarova Stanley Presents, Your Ultimate Rugby World Cup France 2023 Experience!
Get ready to witness the Rugby World Cup France 2023 in the most exhilarating way possible at Sarova Stanley! Join Sarova Stanley for an unforgettable rugby-watching experience, where you will see the action come to life on high-definition screens. At Sarova Stanley, they are turning every game into an event you will not forget. As you soak in the excitement of the Rugby World Cup, they will keep your spirits high with a wide selection of drinks for you to choose from. Whether you are a fan of chilled beer, classic cocktails, or premium spirits, they have got you covered.
But that is not all! To complement the thrilling matches, Sarova Stanley is offering mouthwatering meat platters, perfect for sharing with your friends and fellow rugby enthusiasts. Starting from just Kes 3,800, these platters are designed to satisfy your cravings while you cheer for your favourite team.
The exclusive offer is valid from September 14th to October 8th, 2023, ensuring you will not miss a single crucial moment of the Rugby World Cup action. Do not let this fantastic opportunity pass you by. Gather your friends, bring your rugby spirit, and join Sarova Stanley for an epic Rugby World Cup France 2023 experience. Let's make this tournament unforgettable together!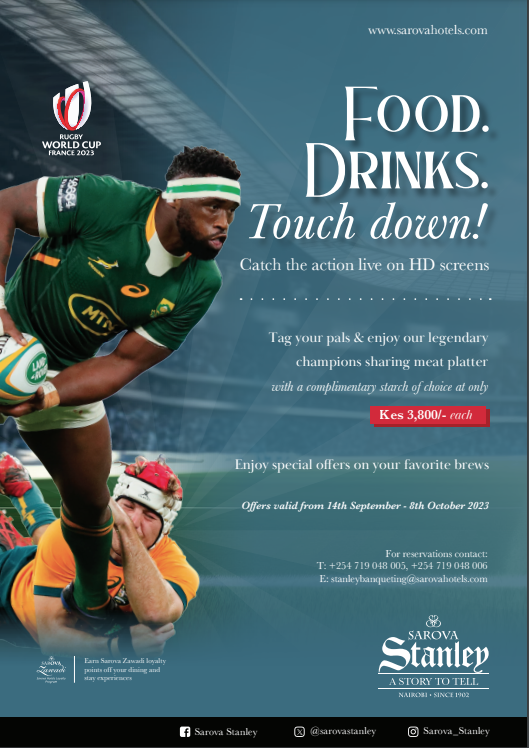 For Reservations:
Contact us at +254 719 048 005 or +254 719 048 006
Email us at stanleybanqueting@sarovahotels.com.