Breathtaking Views and Serene Comfort: Mandhari Lodge Experience
Escape to the heart of the wilderness and discover the hidden gem of Nasikia Camps, the Mandhari Lodge. Located located between Mto wa Mbu and Karatu this exquisite lodge offers a truly unparalleled experience, overlooking Lake Manyara on the Rift Valley floor.
Imagine waking up to breathtaking views, where the horizon stretches endlessly and the sun paints the sky with mesmerizing hues during sunrise. At Mandhari Lodge, every morning begins with the promise of a new adventure, as you savour a delightful breakfast by the poolside.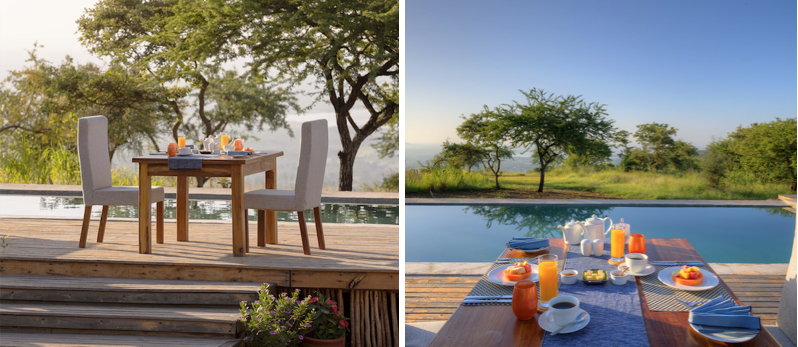 But the beauty does not end with the sunrise. Your overnight accommodation in the wild is an experience like no other. Nestled in the heart of nature, the lodge provides you with all the comforts you need while allowing you to immerse yourself in the wilderness.
Mandhari Lodge is your oasis of luxury in the wild, where you can unwind, relax, and reconnect with nature. It is an invitation to experience the best of both worlds – the thrill of the wild and the comforts of a remarkable lodge.
Grab the chance to enjoy the serenity and comfort that Mandhari Lodge offers in the midst of nature's grandeur. Come, immerse yourself in the wild, and make memories that will last a lifetime. Your extraordinary adventure awaits!
LOCATION
Located high on the Manyara Escarpment of the Great Rift Valley Wall, the lodge has 270 degrees views from Lake Natron, through the Mondulli Mountains and across Lake Manyara.  The lights of Mto wa Mbu are glittering below at night and an infinite African night sky above.  The lodge is accessed with a beautiful drive through the farmlands and villages that skirt the escarpment.
Contacts: +255 755984925 | +255 753984925 | Email:info@nasikiacamps.com| Website: nasikiacamps.com
Contacts: +255 755984925 | +255 753984925 | Email:info@nasikiacamps.com| Website: nasikiacamps.com 
RESERVATIONS: OFFICE
Email:
info@nasikiatanzania.com
Follow us