Curiosity • Playfulness • Service • Connection
It was during one of the most uncertain periods in history and in our lives that we asked the question: how can we help?
We wanted to bring joy into people's lives, and to ease people's troubled bodies, minds and spirits.
Our values are embedded in the festival, because curiosity keeps our hearts and minds open with wonder and appreciation, because life is too ridiculously silly not to play, because being of service and helping others on their healing path is our purpose, because at the end of the day connection and being with other beings is all that matters.
Kusi Edition
1-4 June 2023
The fourth edition of the Kilifi Wellness Festival is on Madaraka weekend, the date on which the Republic of Kenya attained self-governance. This key day in the Kenyan calendar represents independence, and the celebration of autonomy.
Choose this festival to honour your autonomy, recognise your independence, and give yourself the gift of self-nourishment.
The festival has a wide diversity of wellness activities including old favourites from previous festivals and exciting new additions to heal the body, ease the mind and soothe the soul.
Wellness sessions and workshops
Whether you want to stretch your body or relax, to challenge your mind or unwind, we have something for you. Try new things or stick with the familiar – or perhaps a bit of both.
See some of our offerings below.
Aerial Yin, Stand Up Paddle-board (SUP) Yoga, Hatha, Breathwork, Ecstatic Dance, Power Yoga, Laughter Yoga, Hula Hoop, Art Therapy, Arm Balance, Aerial Silks, Afro-dance, Head-wrapping, Vinyasa Flow, Balance and Stretch, Divination & Spiritual Coaching, Calisthenics, Salsa, Energy Healing, Circus Arts, Shamanic Wisdom, Cacao Ceremony, Tarot & Oracle Readings, Addiction Recovery, Beaditation, Physiotherapy, Nutrition, Tapping into your Inner Child, Dance hype, Sound Bath, Meditation, Reiki, Yoga Nidra, Full Moon Dhow Cruise and more.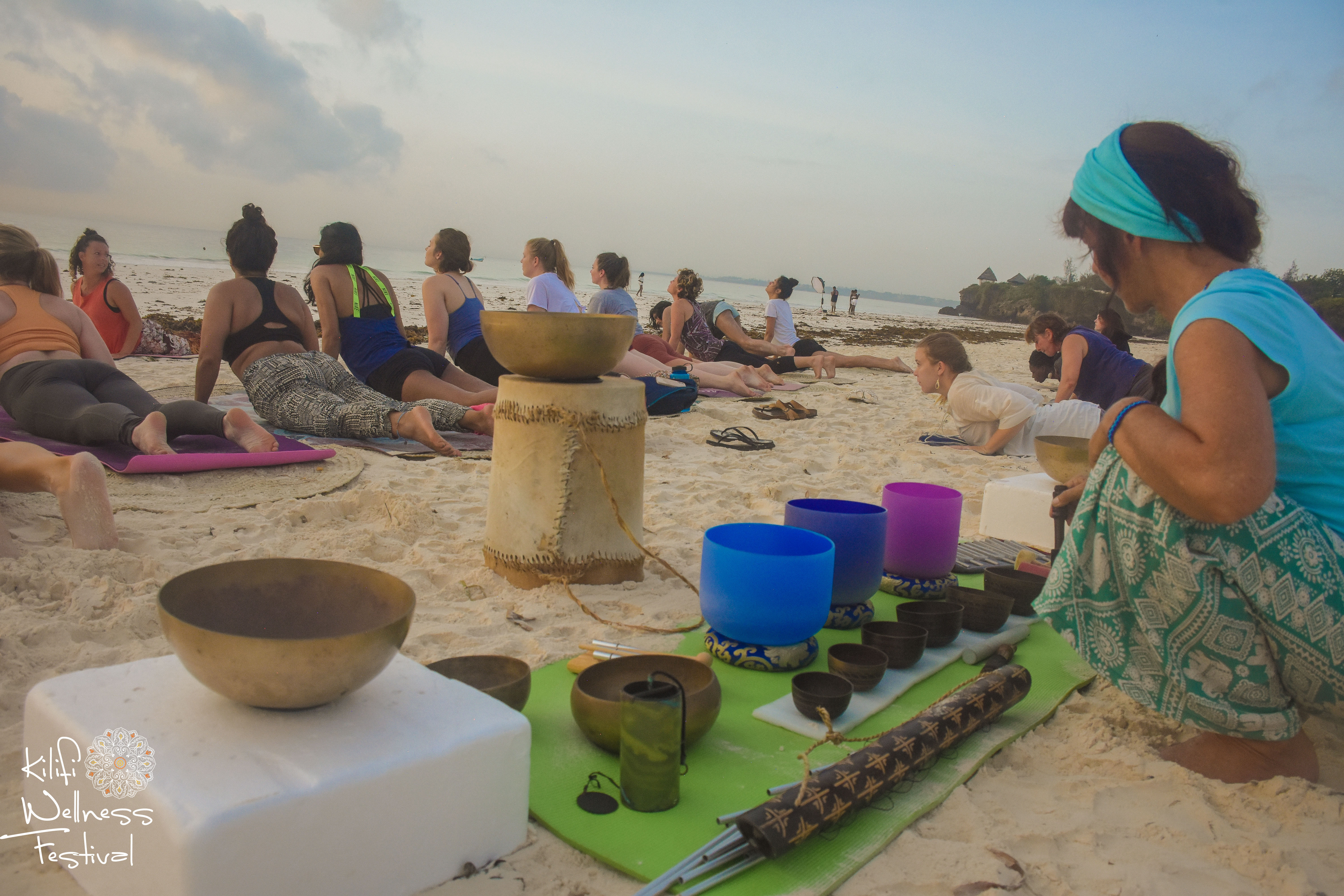 Salty's Kitesurf Village
Salty's is the base of the festival and hosts most of the activities. Established in 2019, Salty's is located on stunning Bofa Beach. The resort has whitewashed coastal rooms, beachfront gardens and a popular beach bar and restaurant. Known for kite surfing, great seafood, welcoming team and gorgeous grounds, Salty's has a sustainable ethos and a relaxed atmosphere.
The Salty's team is an integral part of the Kilifi Wellness Festival, and helped us bring our dream to fruition.
Registered with the International Kitesurfing Organisation (IKO), Salty's offers beginner kitesurf courses and professional kitesurf instructor courses.
Salty's is offering a special 15% discount on accommodation for festival participants who book by 1st April. Please contact saltys.office@gmail.com and attach your Kilifi Wellness Festival invoice to redeem the discount.
3 Degrees South
3 Degrees South water sports centre, at Mnarani Club on Kilifi Creek, is the location of the SUP yoga sessions.
Try your hand at yoga on a stand-up paddle board, or come to experience their wealth of watery activities for all ages.
A registered Royal Yachting Association (RYA) Training Centre and Professional Association of Diving Instructors (PADI) Scuba Diving Centre, 3 Degrees South offers courses and excursions in sailing, windsurfing and diving. They also have kayaking, SUP, waterskiing, wakeboarding and tubing.

Tickets
Early bird tickets are available until 1st April – April Fools Day. (Don't be a fool – get your early bird ticket now!)
For a seamless and stress-free experience, why not buy one of our packages inclusive of flights from Nairobi, airport transfers from Malindi to Kilifi, and accommodation in Kilifi. We have packages to suit all budgets and accommodation styles.
Tickets are available from the Kilifi Wellness Festival website: https://kilifiwellness.com Scroll down, choose your ticket or package, and click. You'll be taken to our payment site, Flowmingo, where you can log in and pay.
Healers
Don't miss the chance to book a session with the therapists who are offering their services at the festival.
Each therapist will be in their own space, and will have their sessions listed on the Flowmingo booking platform.
Some of the wellness treats on offer include sports physiotherapy, reiki healing, personal sound bath, organic henna treatment, and tarot and oracle readings.
We're still open for therapists who wish to offer treatments at the festival to apply. If you have something to offer, please contact info@kilifiwellness.com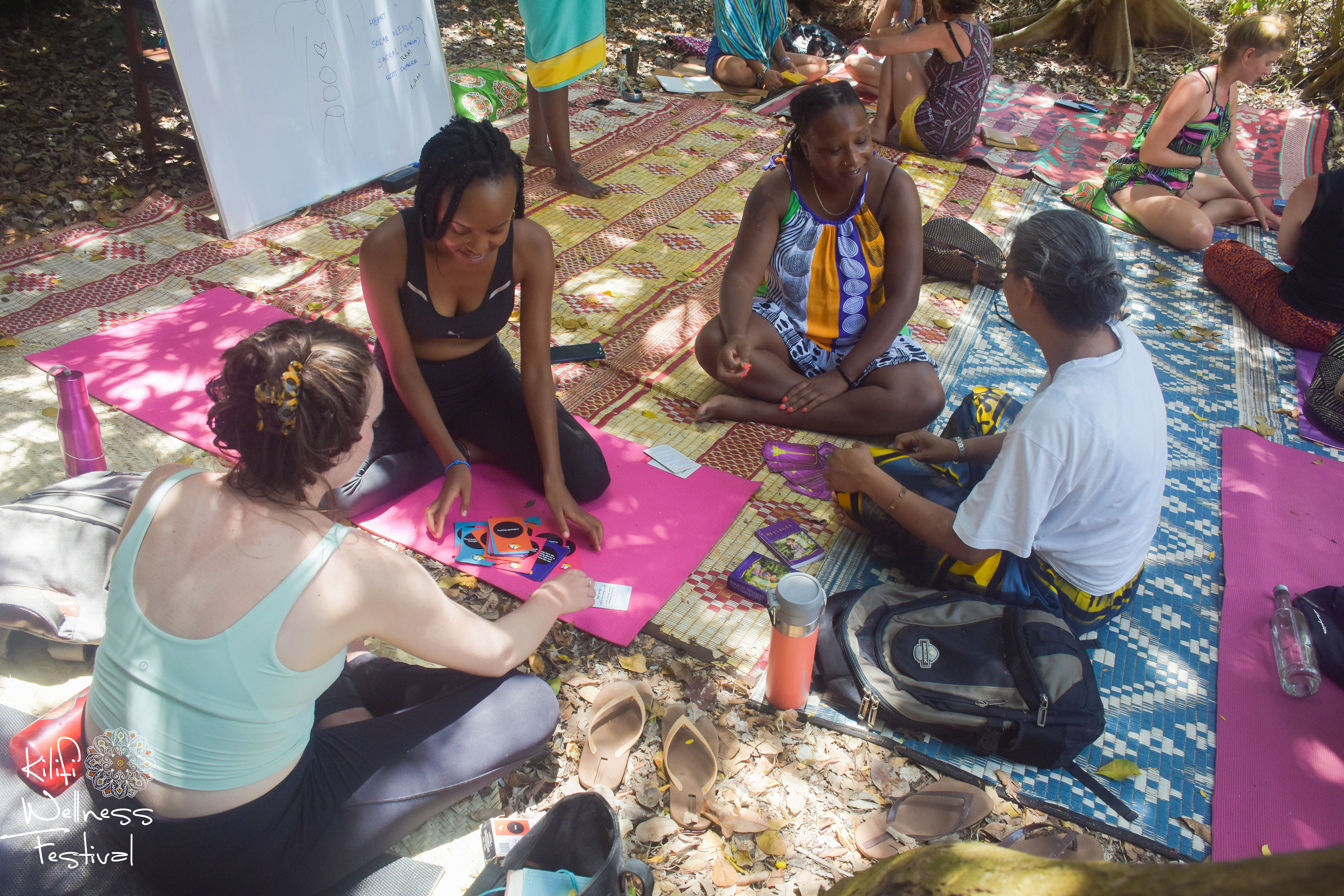 Vendors
The Kilifi Wellness Festival market will be bigger and better this year. Expect health products, skin treatments, eco-friendly innovations, funky coastal wear and creative accessories.
We're still open for vendors who wish to sell their produce at the festival to apply. If you'd like to be a part of the festival market, please contact info@kilifiwellness.com
Sponsors
Our main sponsor is Jua, a rebranding of Agar. An award-winning Kenyan company using natural resources from the continent of Africa, Jua uses an ethical approach to collect gum and resin sustainably while helping pastoral communities by providing training and tools. Their range of essential oils and skincare will be available at the festival market.
Wildlife Works also sponsors the Kilifi Wellness Festival. Located in an impoverished part of Tsavo, the world's only carbon-neutral, fair-trade factory protecting wildlife produces quality clothes while providing employment. Wildlife Works is the world's leading REDD+ programme development and management company, protecting forests to mitigate climate change. Their range of fashion, eco-soaps and eco-charcoal will be available at the festival market.
We're still open for companies or organisations who wish to sponsor the festival to apply. Please contact info@kilifiwellness.com for details of our festival sponsor package.
Giving back
Please bring a book!
Kilifi Wellness Festival is proud to support Street Libraries around Kilifi. Literacy levels are low in this county, and many schools don't have libraries.This wonderful project, led by the ambitious and bighearted Linda, is placing colourful, painted Street Libraries around the town and beyond, where people can drop off books, exchange books, or sit and read on benches under the trees.
If you have books in your house that you no longer need or read, please drop them at the festival. We'll donate them to Linda who will add them to her Street Libraries. If you want to meet Linda, see her Street Libraries, and deliver your books personally, we'd be happy to help.
What you'll gain
If you want to experience four days in a beautiful space, meeting diverse people and sharing inspirational experiences, the Kilifi Wellness Festival is for you.
Come to recharge your batteries and feel nurtured and nourished, and return home feeling relaxed and grounded.
The festival is for everyone!
See you there!
Voice of Events and Festivals