Escape To Serenity: Marijani Beach Resort In Zanzibar Offers A Limited-Time Family Experience
Escape to a world of tranquility and indulgence at Marijani Beach Resort, nestled along the pristine shores of Zanzibar. With its breathtaking architecture, stunning beachfront location, and a myriad of luxurious amenities, this resort promises an unforgettable getaway for discerning travelers. And now, there's even more reason to pack your bags, as Marijani Beach Resort unveils an exclusive family offer, available until the 30th of June 2023.
Step into a realm of architectural beauty as you arrive at Marijani Beach Resort. The striking structures, both inside and out, reflect a blend of traditional Zanzibari design and modern elegance. From ornate carvings to intricate details, every corner of the resort exudes a sense of opulence and charm.
The resort's prime location grants guests breathtaking views of the turquoise waters of the Indian Ocean. Lounge on pristine white sands, listen to the gentle lapping of waves or take a refreshing dip in the crystal-clear waters. For those seeking relaxation and rejuvenation, the resort's state-of-the-art swimming pool and luxurious spa facilities provide the perfect oasis to unwind and pamper oneself.
Culinary delights await at Marijani Beach Resort's exquisite dining areas. Experience a symphony of flavors as skilled chefs prepare a fusion of international and local cuisines using the freshest ingredients. Enjoy a family feast in a tropical garden setting, every dining experience at the resort is sure to be a memorable one.
Indulge in the ultimate comfort of Marijani Beach Resort's luxurious single and double rooms. Each meticulously designed room offers a haven of serenity, combining modern amenities with traditional touches. From the finest linens to panoramic views of the ocean or the lush gardens, every detail is carefully curated to ensure a blissful stay.
Within the resort's expansive grounds, guests can discover The Spice Garden, a tranquil retreat where one can immerse themselves in the beauty of nature. Take a leisurely stroll through fragrant pathways adorned with vibrant flora, and let the serenity of the surroundings transport you to a state of pure relaxation.
After a day of exploration and relaxation, retreat to the resort's inviting lounge area or head to the fully equipped bar, where expert mixologists are ready to craft signature cocktails tailored to your preferences. Unwind with a drink in hand and soak in the ambiance of this tropical paradise.
Don't miss out on the exclusive family offer currently available at Marijani Beach Resort. Whether you're planning a summer holiday or a much-needed getaway, this limited-time offer presents an incredible opportunity to create lifelong memories with your loved ones in a luxurious and idyllic setting.
Experience the epitome of luxury, beauty, and tranquility at Marijani Beach Resort in Zanzibar. Book your stay today and embark on an extraordinary journey of relaxation, indulgence, and unforgettable moments.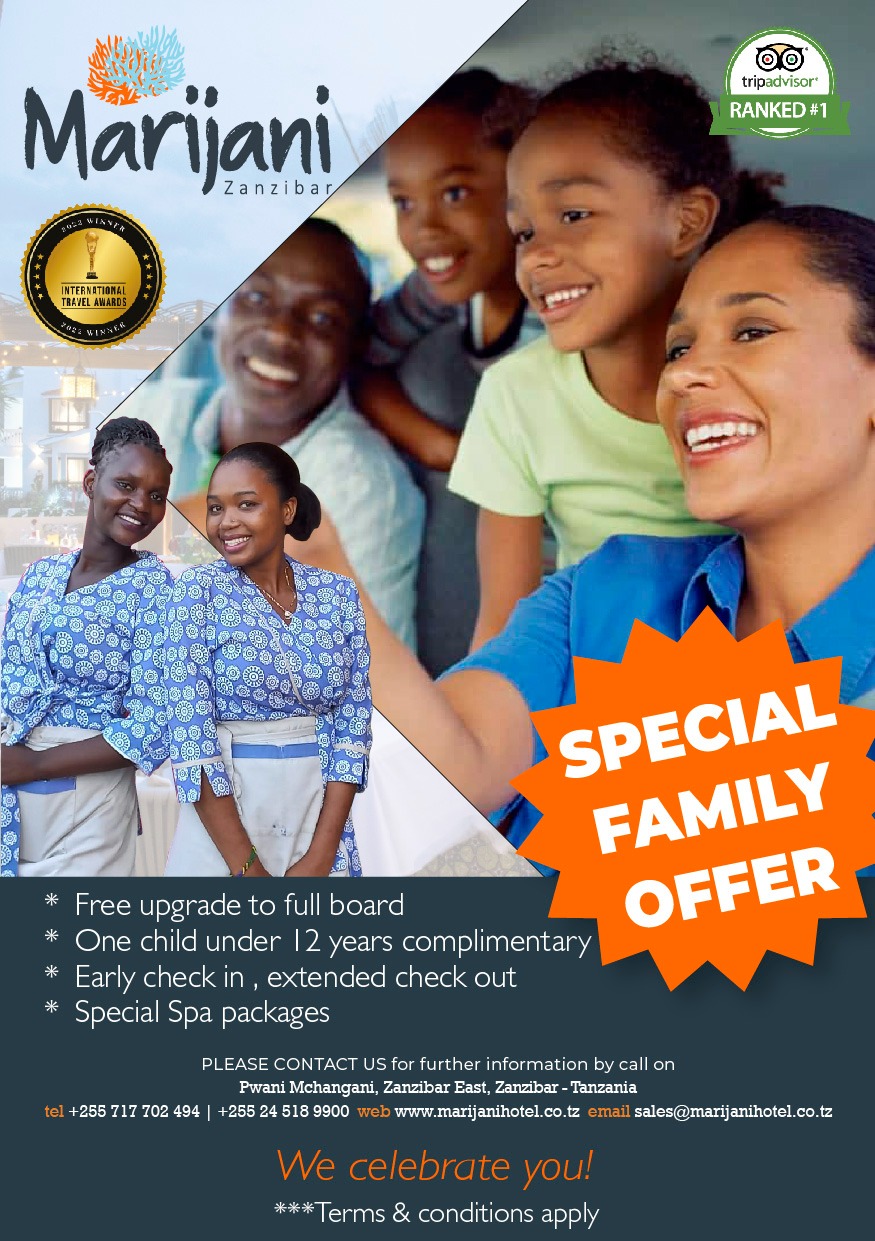 Please see below the rack rates and East Africa rate
The rates are on half board basis, an upgrade of the meal plan we charge as follows,
From Half Board to full board 25.00$ per adult per night and 50% per child below 12 years From Half Board to all-inclusive 50.00$ per adult per night and 50% per child below 12 years All-inclusive bar list is attached,
For Reservations Contact +255 717702494 or +255 245189900 Visit our website www.marijanihotel.co.tz
You can chat with our events manager at sales@marijanihotel.co.tz
Marijani Hotel is recognized worldwide.  Marijani Beach Resort & Spa – Nat Geo Recognition
CLICK HERE to view all you need to know about Marijani
Follow us